How to be Eco-Friendly at University
Monday, 5 Oct 2020
Twitter pageWe've seen it all over the news – climate change is a global crisis. Thankfully, many students are listening and taking action. They know they have an important part to play in saving the planet.
In reference to a survey ran by the National Union of Students (NUS), The Guardian reported that 91% of students in the UK are concerned about climate breakdown and 80% want their university to focus more on sustainable development.
Millions of students have participated in climate strikes to push for the government to take action. They have listened-to some degree, putting motions in place and setting targets such as 'net zero'. Some students though, may be thinking what they can do at university to contribute to the global effort and therefore Send My Bag have put together this blog with simple ways that you can act and stay eco-friendly as a student at university.
1. Support a Fossil-Free Campaign
People and Planet, the UK's largest student led network for social and environmental justice started a campaign in 2013 to call for all universities in the UK to divest from the fossil-fuel industry. This means stopping their investment in fossil fuels, cutting research funding that they receive from the fossil-fuel industry, sponsorship links and any other partnerships that they have with the industry.
Since the campaign started, over half of UK universities have committed to divesting from fossil-fuels in some form due to student-led campaigns. You can check out the links that your university has with the fossil-fuel industry on the People and Planet's website, where there is a fossil-free scorecard for each university in the UK and information on how you can support a fossil-free campaign or create one for your own university.
2. Reduce Your Food Waste
When you waste food you also waste money, and as a student, money is generally not that easy to come by. One of the easiest ways to reduce food waste, save money, and save time is to meal prep. When you have spare time, you could do some meal prep by batch cooking meals, putting them in the fridge or freezer and pronto, you are sorted for lunches at university for the rest of the week. Tasty is a great food network on social media to follow for lots of meal prep ideas that you can use for inspiration.
Zero-waste stores have become popular in the UK for bulk buying to save money, reduce waste, and stop the use of plastic packaging. The Telegraph released an article with some of the best zero-waste stores in the UK, where you can bring your own containers, jars, and paper bags to stock up on everyday staples (grains, pulses, pasta, rice, nuts, tea, coffee, dried fruit, oats, cereal and lots more!) Sustainable lifestyle and green living magazine Pebble also released an article of 90 of the best in the UK. Play your part in reducing waste by checking out one of these stores.
There are also relatively new services who are making it more convenient, creative and you could say 'cooler' to reduce waste. An example is an app called 'Too Good to Go' – users of the app can buy 'magic bags' from £2-£4 containing perfectly edible and tasty surplus food from over 20,000 stores and restaurants partnered with the business. The app is available in popular student cities, including Manchester, London, Edinburgh, Liverpool, Glasgow and more.
3. Reuse and Upcycle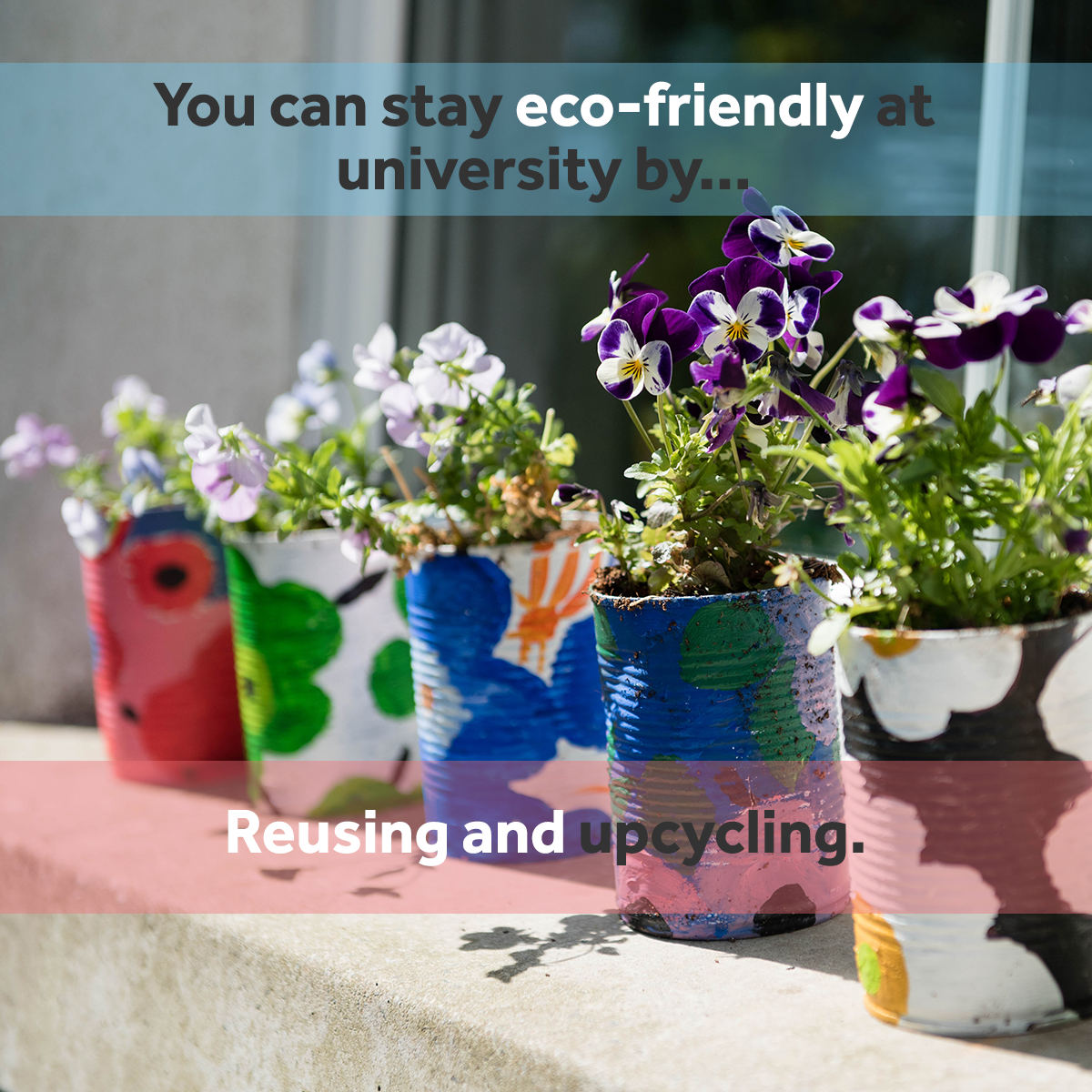 Investing in a re-usable keep cup for coffee and re-usable water bottle will reduce the amount of plastic and packaging that you use and reduce the amount of money that you spend on buying coffee and water. For some creative, quirky, and fun ways to reuse and upcycle, you could try your hand at some simple DIY projects, perhaps as something fun and different to do with your housemates (especially with all that added time indoors you're likely to have). If you're bored with a piece of furniture, spruce it up with a splash of colour and do the same for old crates, cabinets and boxes for your student house. Or stock up on mason jars, which are great for everything! You could add fairy lights and other accessories to them for house decorations or use the jars as penholders, toothbrush holders, food storage containers, soap dispensers, drinking cups and much more.
Another way that you can reuse is by checking out charity shops and auctions for second-hand vintage furniture. The Telegraph recently reported that there has been an increase in purchases of antique furniture by "environmentally conscious millennials." The article pointed to how popular auction houses in the UK have seen an increase in sales to millennials because of platforms like Instagram turning vintage and sustainable furniture into a trend.
4. Sustainable Fashion
Eco-friendly is becoming more and more fashionable! Many people are using Instagram to promote sustainable but stylish clothing, following a movement to reduce the amount of harmful carbon emissions produced by the fashion industry, particularly by fast-fashion retailers. There are lots of hashtags that you can follow and get involved with on Instagram for inspiration on sustainable fashion (#slowfashion #ethicalfashion, #fashionrevolution, #sustainablestyle and more). Mobile apps like DEPOP are great for buying second-hand clothes and accessories and selling your own clothes for some extra cash. You could also check out the local charity and thrift close to your university.
5. Eat Less Meat
Agriculture is one of the biggest causes of climate change because of the carbon emissions produced by livestock, farmland soil and deforestation. Eating too much meat is said to increase the risk of some health conditions, and meat can bring up the cost of your shopping bill, so cutting back on how much meat you eat could be healthier for you and your bank account. Have a look at our blogs on the cheapest places to eat in cities like Manchester, Birmingham, and Edinburgh, where there are lots of tasty vegetarian and vegan options.
6. Reduce Water Usage
You might be surprised by how much water that you waste on a daily basis! Environmental organization Hubbub set up a campaign called #TapChat to get people to share their daily water habits on Twitter and Facebook, and to share tips on how to reduce water usage. These are simple day-to-day things like shortening the amount of time you spend in the shower or turning the tap off when brushing your teeth or washing the dishes. You can check out your water habits on the Hubbub website, by taking their #TapChat quiz.
7. Try to Decrease the Amount of Paper You Use
Between lecture handouts, having to take notes in lectures and printing out assignments, you can go through a lot of paper at university. However, you can try to reduce the amount of paper you use and make sure that you aren't wasting paper. For example, use both sides of paper to take notes in lectures and when setting aside handouts or articles that you print with the good intention to read them, think about the paper going to waste if you don't read them and they eventually go in the bin – a good reason to make a start on that pile of built up notes that you have.
While controversial, the forced move towards virtual learning because of social distancing measures is sure to reduce the amount of paper you use to take notes. Instead you can keep your study notes on your laptop or tablet. Meanwhile, online exams are a definite possibility this semester.
8. Recycle Regularly and Properly
You may find that the rubbish and recycling area at your student accommodation can end up a disorganised mess, which makes it even more of a struggle to put any waste that you have into the right place for recycling. To avoid this, it's best to organise what rubbish is recyclable and recycle regularly.
Are you going to university or heading home? Our student shipping service is the best option for you to transport everything that you need between your home and university at the beginning and end of each semester.
Do you have any other tips on how to stay 'eco friendly' at university? Let us know on our Twitter page or LinkedIn.
Our Most Popular Articles