Christmas 2020: The Safest Trips and Christmas Markets in Europe
Wednesday, 18 Nov 2020
Every year, the European Best Destinations (EBD) organization releases its list of European cities hosting the best Christmas markets. While some big markets such as Winter Wonderland in Hyde Park are unfortunately cancelled due to COVID-19, this list has been carefully curated to feature the European cities where it should still be possible to enjoy the magic of Christmas.
Many European cities and towns have their own traditional end-of-year holiday festivities; so this list should be perfect for those who are a little tired of their hometowns usual celebrations and want to experience something new.
The Safest Christmas Markets/Destinations in Europe were chosen on the basis of a number of criteria including but not limited to: number of Covid-19 cases per million inhabitants, number of hospital beds per inhabitant, proximity of airports, establishment of sanitary measures, hygiene charts, masks and circulation routes inside the Christmas markets.
All the markets are situated in destinations less affected by coronavirus and feature contactless payment methods, merchants wearing protective masks or visors and sign posted routes to aid social distancing.
As the Covid-19 situation continues to evolve across Europe, we strongly recommend double-checking local regulations before visiting any of these markets or booking a trip for the winter season.
1. Madeira Islands, Portugal
The EBD organization proclaims Madeira as the safest European destination for a winter holiday this year with up to 12 times fewer cases of COVID-19 per million inhabitants than other EU destinations and no deaths.
There is no quarantine on arrival for travellers that have taken a Covid-19 test 72 hours prior to departure, while airport scanning and other safety and hygiene protocols such as the wide use of masks provide another line of defence.
The Christmas market in Madeira has been awarded the title of 'Best Sunny Christmas Markets in Europe' thanks to its stunning tropical scenery, shiny illuminations, exotic fruits and flowers, local crafts and wines.
The market runs December 1st-10th January 2021.
2. Basel, Switzerland
The Basel Christmas market is one of the prettiest in the whole of Switzerland, found in the heart of the city amongst the festively decorated Old Town.
There will be fewer stands this year due to coronavirus, despite this there will still be around 80 artisan traders bringing their unique gifts and culinary delights.
The Christmas market is scheduled to open on November 25.
3. Vienna, Austria
Austria's hospitals have never been overwhelmed by the pandemic with the country recording 10 times fewer cases of the coronavirus than other European destinations. Vienna also has one of the lowest crime rates in Europe making it the ideal place to combine safety and leisure.
At Christmas, some of Vienna's charming squares transform into the most beautiful and authentic markets with the aroma of freshly baked goods and hot punch creating the perfect Christmas, cozy atmosphere.
The organizers are said to be working on a number of COVID-19 safety concepts to ensure the magic of Christmas in Vienna continues to be experienced by visitors.
Due to a new lockdown in Austria, Christmas markets are unable to open until December 6 at the earliest.
4. Craiova, Romania
Romania's sixth-largest city Craiova may be slightly off the beaten track but it offers dazzling Christmas markets that are both safe and authentic.
National and local authorities implemented early preventative measures in response to COVID-19 while Romania has more hospital beds per capita than Norway, the United Kingdom and Ireland.
EBD reports that the destination "brings together internationally-renowned cultural institutions as well as world-renowned artistic events" and that it was able to "put its tourist offers on hold in order to be well prepared this winter".
The markets open November 28th through to New Years Day.
5. Lisbon, Portugal
Often recognized as one of the most beautiful Christmas markets in Europe, the Lisbon Christmas market will also be one of the safest this year thanks to the strict health measures introduced by organizers.
Visitors to the market will have to follow a sign posted route while hydro alcoholic gel and masks will be widely available. There will also be plexiglass protection for sellers and specific operations in place for stalls that sell food and drink.
The Portuguese are big fans of Christmas cake, bolo rei king cake that is. Otherwise known simply as King cake, this seasonal pastry is often filled with candied fruit and port wine and is available to try at the Natal E Na Fil festive market in Lisbon.
Expect the Christmas market to open November 27 and close December 1.
6. Gdansk, Poland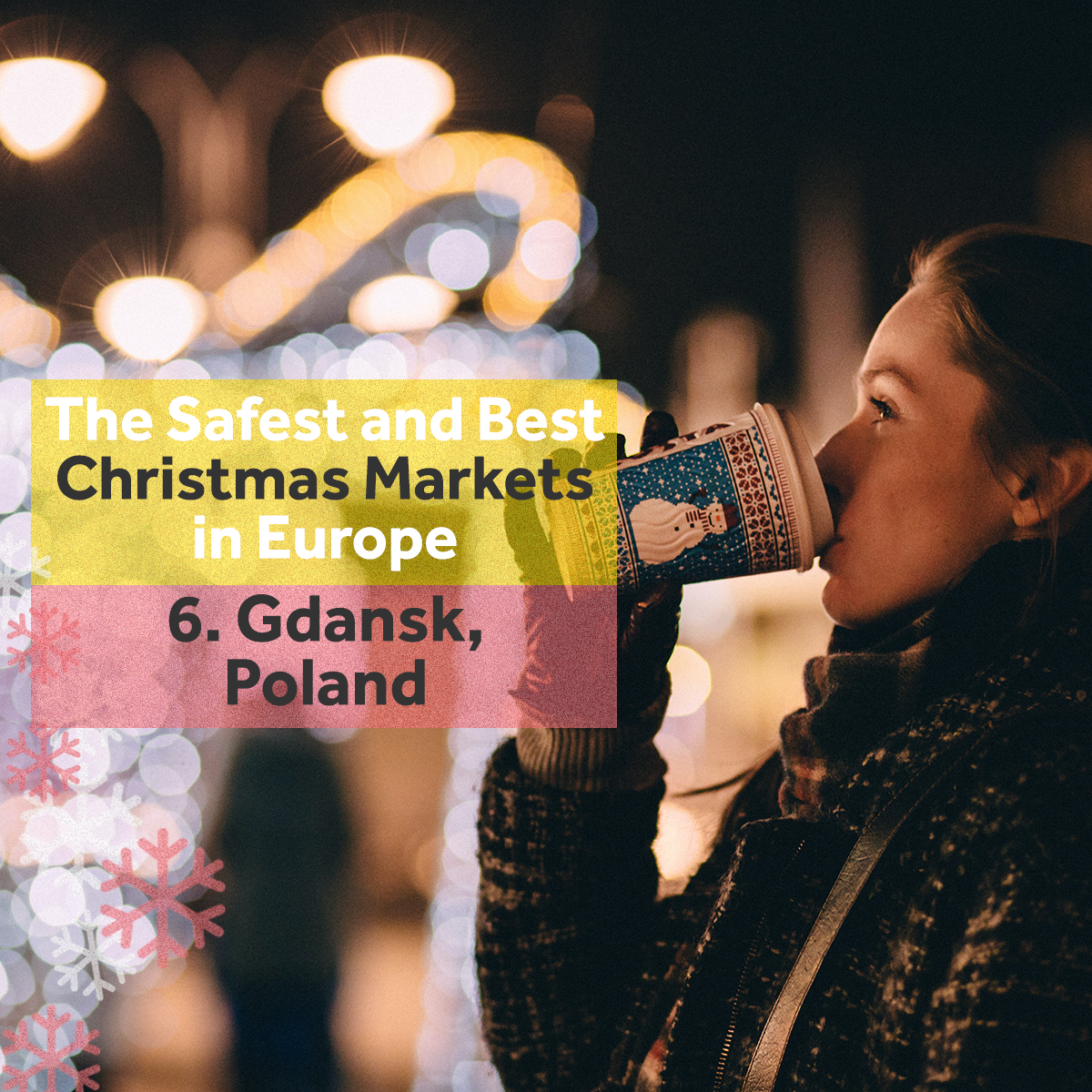 Poland has recorded 13 times fewer severe cases of COVID-19 than other countries in Europe.
The Christmas market situated in the historical centre of Gdansk offers a fairy tale atmosphere that captivates visitors year after year. A unique twist sees individual street names marked out only at this time of year: Chocolate, Cinnamon, Angel or Christmas Eve Street.
If coronavirus levels in the country remain consistent, the market is due to open on late November to the end of December.
7. Hafnarfjörður, Iceland
Hafnarfjörður has been nicknamed the "Town of Elves and Lava" and is a treasure trove of Viking history.
Thanks to this, it's one of the most unique and intriguing places to experience at Christmas.
This year you'll find tons of local Icelandic crafts. Be sure to wrap up warm!
8. Zagreb, Croatia
Croatia is one of the safest destinations in Europe for a holiday this winter with 13 times less COVID-19 casualties per million inhabitants than some European countries.
Croatia has an abundance of tourist apartments and private villas as well as boutique hotels and small accommodation, all with strict sanitary procedures in place.
The Zagreb Christmas market has been voted the 'Best Christmas Market in Europe' by European Best Destinations online poll three years in a row and is now well adept to welcome visitors this year with an extensive set of sanitary standards such as the disinfection of rides and plexiglass protection for vendors.
Set to open from November 28 to January 1, 2021.
9. Ljubljana, Slovenia
The Ljubljana Festive Fair is well known for its vibrancy and cheerful atmosphere. Festively decorated stalls sell a fine choice of products suitable for giving as gifts to your friends, family and loved ones.
Some of the stalls sell interesting and reasonably priced pieces of fashion by young Slovenian designers, most of which are not available in the local shops.
You'll also find plenty of mulled wine to enjoy through the winter season.
10. Helsinki, Finland
This wonderful Scandinavian Christmas market is held in Helsinki's Senate Square with a vintage carousel sure to bring joy to many young travellers.
Here you'll also find Finland's non-alcoholic take on mulled wine meaning all the family can enjoy some of the festive beverage.
Are you heading on a trip this winter? Make your travel easier by shipping your luggage in advance with us.
Have your Christmas travel plans been disrupted by COVID-19? Let us know by joining the conversation on Twitter or Instagram.