What to Take to University: The Ultimate 2020 College Packing List
Friday, 4 Sep 2020
So, you've been accepted into your university of choice and are coming to terms with facing an extended time away from home. Now the question is, what do you bring with you? Deciding what to take to university or college is daunting in any normal year, never mind the chaotic and turbulent times of 2020.
We know - you need help. The Send My Bag team have had plenty of experience packing our own personal belongings for university (and shipping it for students!) and have put together the ultimate packing list for college and university, identifying the most important items to pack this year.
Study Essentials
While there may not be as many lectures or seminars in the coming months, you'll still want to have all the necessary study items on hand. Especially if you're facing a period of study in your dorm. You will need:
Key textbooks
Books from the reading list
(Bilingual) dictionary
Stationary kit – highlighters, pens, pencils, ruler, etc.
A study diary/journal
If you're worried about the extra weight books may add to your bags, remember you can always wait to purchase them from your university or college shop when you arrive.
Clothing Items
The first year of university has most students dressing to impress and this year will be no different. Depending on the climate you're moving to, you may wish to bring:
Underwear for at least a week
Socks for a week
T-shirts/tops
Jumpers
Shirts
Everyday jeans
Dressier/going out jeans
Accessories – belt, watch, jewellery
Light jackets
A heavy coat
A formal outfit
Everyday shoes
Smart shoes
Umbrella
Pyjamas
Slippers
Workout clothing
Dressing gown
Toiletries
You never know when shops will run out of the essentials so it's a good idea to arrive to campus with at least some toiletries. Pack as many items as you usually would for a vacation or holiday:
Small shower gel
Small shampoo/conditioner
Make up
Make up remover
Moisturiser
Deodorant
Shaving foam
Razor
Hairbrush/comb
Contraceptives
Hairdryer
Hair straighteners
Contact lenses and solution
Sanitary items
Flip-flops (for communal showers)
Medication
Hopefully you'll manage to avoid the cold and flu (never mind anything else!) in your first semester. Travelling can also have adverse effects on some, while a change of climate could impact you more than you realise. Pack these essential medical items in your carry-on luggage:
Prescription meds
Painkillers
Indigestion tablets
Cold and flu medication
Plasters/band aids
Antihistamine cream or tablets
Plasters
Home Décor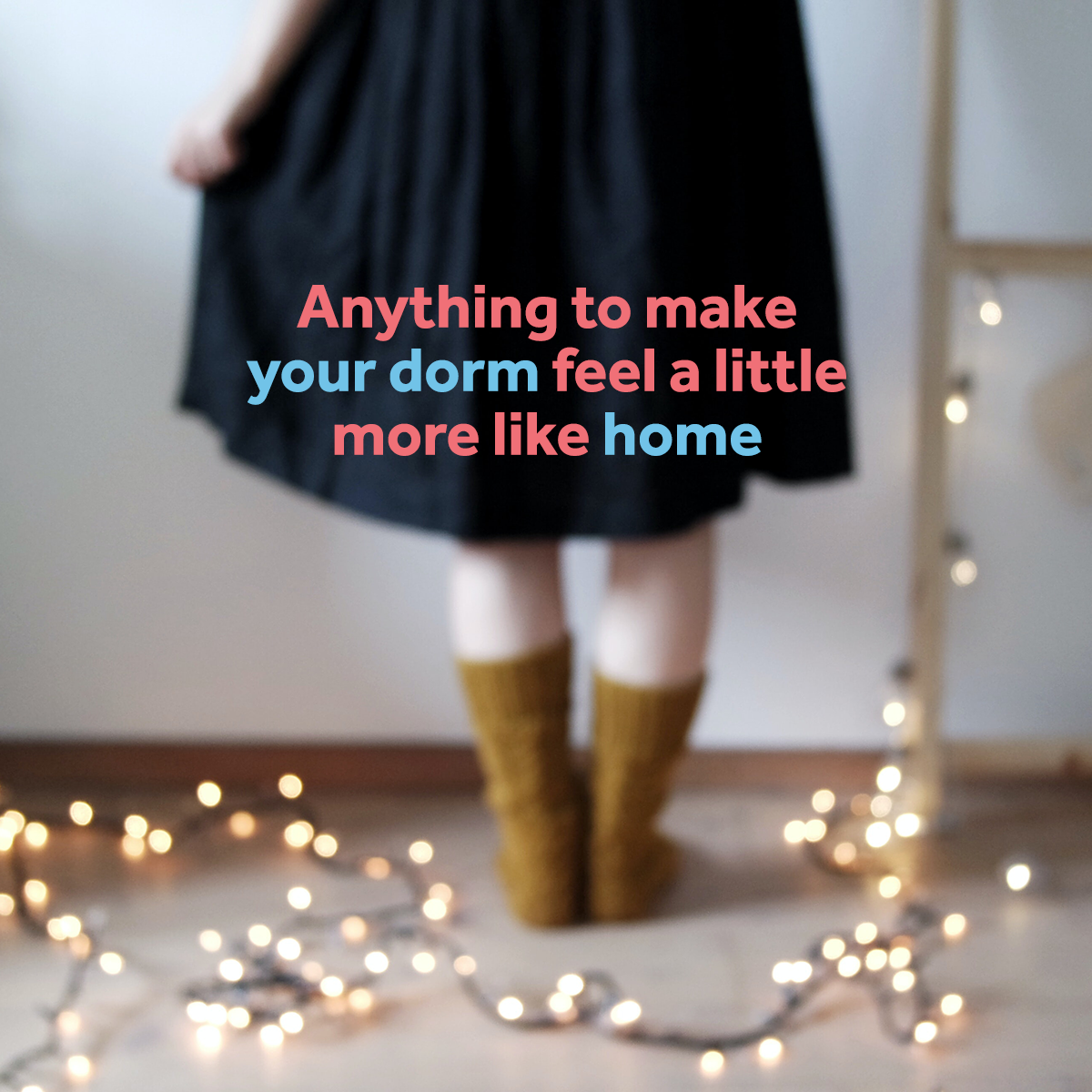 Make your dorm feel a little more like home by bringing a few non-essential decorative items such as:
Photos of family and friends
Posters
Plants
Fairy lights
Cushions and throws
Your favourite mug (carefully packed)
A warm blanket
Cosy bed sheets
Hot water bottle
Kitchen/Food Supplies
If you're moving into a hall of residence, your kitchen should be stocked with kettle, microwave and a toaster. There may be a few individual items the accommodation provider has not supplied for you, however. While you would be smart to bring some of your favourite food items from home just in case you can't find them in your new environment:
Cereal bars
Chocolate
Gum
A food item specific to your home country
Wok
Frying pan
Tupperware
Bowls and plates
Mugs
Reusable water bottle
You may not wish to pack some of these items in your luggage. If not, you can always purchase on your arrival or you may find some of them are already provided. It may be a good idea to use your own if your particularly cautious about sharing common kitchen items, however.
Technology/Entertainment
With COVID-19 self-isolation measures, you may find that you're studying from home or your dorm on a more regular occasion and it is therefore absolutely necessary to ensure your kitted out with the necessary technology to continue your studies. While you will need entertainment to pass the time.
Laptop
Chargers
Back-up/hard drives
Headphones
Desk lamp
Headphones
Magazines
Fiction books
Travel adapters
iPad or other tablet (with access to Netflix)
Documentation
Research everything you need to bring to enrol at your institution. It's a good idea to pack these items in your carry-on luggage in case your checked bag gets lost. Even better: ensure you have access to digital copies of these documents at all times.
Passport
Visa documentation (if studying abroad)
Driving license
Letter of acceptance from the host institution
Student accommodation letters
Travel insurance details
Student finance documents
Bank details
Staying Safe at University/College
With COVID-19 likely to be with us for some time, it is essential that you act responsibly and in accordance with local guidelines. It is a good idea to bring the following:
A reusable face mask
A supply of single use masks
Disinfectant wipes
Hand sanitizer
Hand soap
Disposable gloves
Digital Thermometer
Do you agree with the items listed on our Ultimate 2020 College Packing List or do you have any additional items you would like to include? Let us know on our Facebook page or Instagram Page.
Our Most Popular Articles