Best Cities to Move to in the UK
Monday, 29 Jul 2019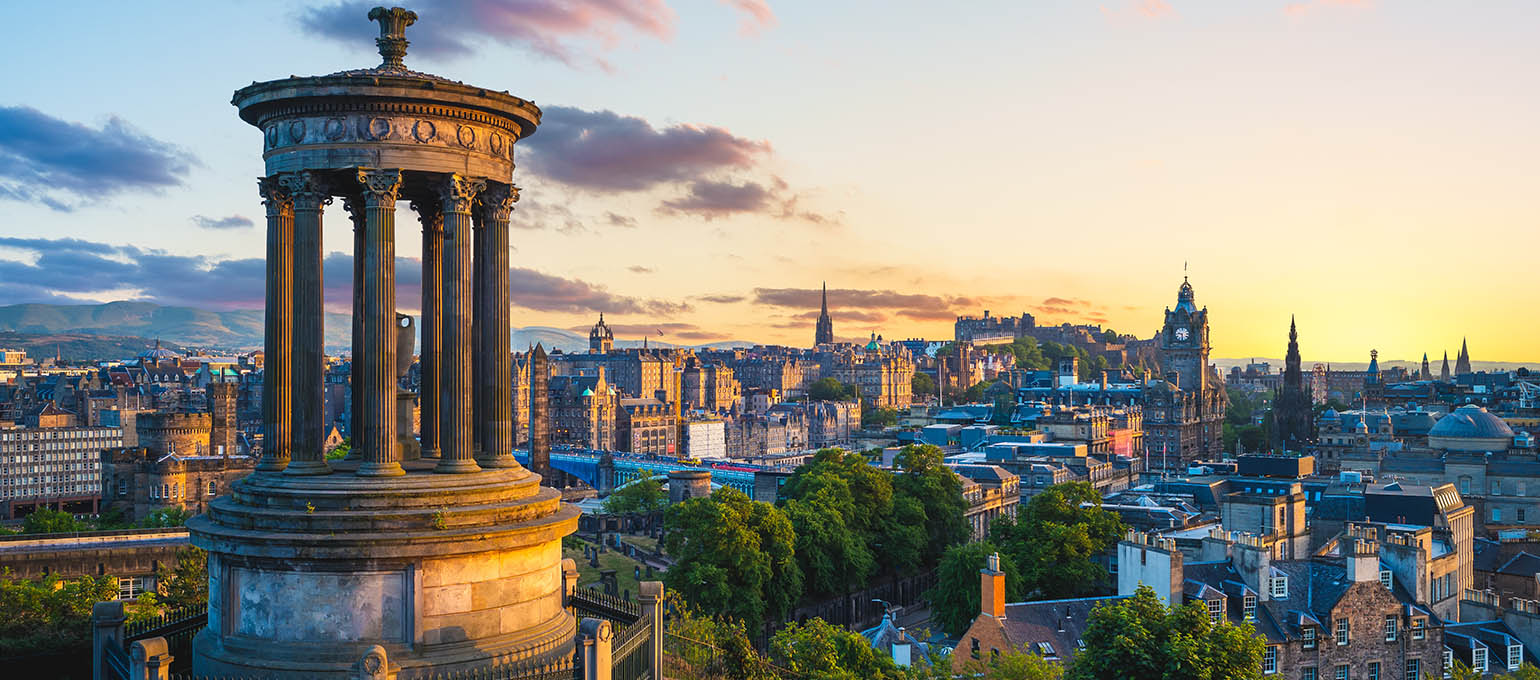 Whether you are moving to the UK alone, with your partner, or with children, Send My Bag is here to help. We have put together this blog about the best cities to move to in the UK, which explores a range of cities that cater to everyone and to every taste. As well as assisting your relocation by giving you helpful information about potential places to move to, we can also lessen the strain of the move itself through our door-to-door luggage service. When moving to the UK, you don't have to choose London as a matter of course. There are many other top-rated cities in the UK that have to same kind of buzz and beauty as the country's capital.
Edinburgh
Edinburgh was listed in 2018 as the most attractive UK city to live and work in by a Royal Mail study, which measured things like business, education, and the community, all of which Edinburgh excelled in. As Scotland's capital, Edinburgh is vivacious and diverse and boasts the best of Scottish history, culture, and architecture. Live in Edinburgh and you will have its many historic lanes and streets just a stone's throw away, such as Circus Lane, Victoria Street, and Princess Street, which have plenty of restaurants, cafes, and bars for you to enjoy. On your days off and on family outings, you might want to soak up some Scottish history, in the form of castles, gardens, statues and monuments, cathedrals and townhouses.
In the Royal Mail study, Edinburgh was ranked 2nd for job earnings, after London, and in the top five for job opportunities, community, and education. In rankings compiled by the Deutsche Bank in 2017 on the highest quality of life in the world, Edinburgh ranked 2nd, outshining 24 other cities in areas such as commuting around the city, healthcare, and levels of pollution. Edinburgh is a historical city with abundant ancient architecture, but the prospects it holds for people wanting to live and work there make it a contemporary and advanced city.
London
You'll have plenty of choice in Britain's capital, London, as it is a central hub for everything from job opportunities and education, to culture and diversity, to food, coffee and entertainment spots. There are so many different areas to choose to live, from the expensive central areas, to the more affordable areas on the outskirts of the city. The centrality and affluence of areas in London like Clapton, Fulham, Kings Cross, Richmond, Kensington and Chelsea come at a price, as houses here start at around £600,000, making their way up to over £1 million. However, a higher majority of people live in lower-priced areas like Croydon, Sutton, and Greenwich and commute to the centre, which is why London's underground trains are usually so jam-packed.
London ranked the lowest for housing affordability in the 2018 Royal Mail study on the most attractive UK cities for living and working, but high-paying salaries can make up for this, as London led in job earnings. The average salary in London for those with experience is said to be around £35-37,000, and for graduates the salary in London is reported to be 7% above the national average. London also ranked 2nd for job opportunities in the Royal Mail 2018 study and is, therefore, no doubt an ideal city if you want to succeed in your career. A Money Supermarket Index ranked London amongst one of the least family-friendlies cities in the UK, however, so it seems that London is more work-orientated than it is a family-orientated city.
Bristol
Bristol came in 3rd position in the best UK cities to live and work in 2018, which is a slight fall from its number one position in 2017 in The Sunday Times Best Places to Live Guide. Nonetheless, it has previously come out on top two years in a row and this is likely to do with the fact that you get similar perks here to a big city like London but within a smaller, less crowded, and more homely place.
Bristol property is somewhat cheaper than in London; it ranked 11th for housing affordability in the 2018 Royal Mail study, just behind London. Although it is still up there in the pricey range, it has had a leading position in terms of job earnings. Bristol has many opportunities and, in fact, topped London for job opportunities, as it came in first place in the 2018 Royal Mail study. Plus, it has a high employment rate of 77.3%.
This is not to mention the options Bristol boasts in terms of its culture, community, and diversity. The city boasts a long stretch of independent shops and restaurants, but is also home to a beautiful seaside and rural landscapes, with the countryside only about 20 minutes away from the centre. Therefore, you can enjoy the culture and entertainment of the city or escape to the countryside or seaside to relax and take in the natural scenery. It is perhaps this combination and choice that makes Bristol such a popular place to live and work.
Gateshead
Gateshead in Tyne and Wear is a large town on the south bank of the River Tyne, which is linked to the city of Newcastle upon Tyne on the north bank of the river via the famous Gateshead Quayside and tilted Millennium Bridge. Gateshead Quays is an iconic location for culture, art and entertainment, as it is home to celebrated buildings and bridges like Tyne Bridge, Sage Gateshead, BALTIC Centre for Contemporary Art, and factories which date back to Newcastle's industrial past. A £250 million development of Gateshead Quays was announced at the end of 2018, which is said to bring even more culture and entertainment, as well as support over 1,000 jobs and boost the Newcastle economy by millions.
There is no doubt, then, that the growing culture and prosperity of Gateshead makes it another attractive place to live and work in upcoming years. Living amidst the excitement of all of this doesn't come at a high cost, however, as housing affordability and living costs are low. Gateshead snapped up the third spot in the Royal Mail 2018 study for housing affordability. It is also a very family-friendly place, as Gateshead Quays is home to many family attractions. In addition, beaches like Longsands Beach and Whitley Bay are only a half-hour drive away, for more family fun.
Manchester
Manchester, with its Northern charm, culture, and community, received an average ranking of 5.9 in the 2018 Royal Mail study and it also made the top 50 in The Economist's Global Liveability Index. The Economist ranked these cities according to metrics like stability, healthcare, culture and environment, education, and infrastructure. Manchester ranked in 35th place‒13 places in front of London, which only made 48th place.
Manchester was the world's first industrial city and, today, it is still a driving force of innovation and opportunities and has been reported to have stayed in the lead as one of the UK's top-performing cities. Manchester's gross value has been forecasted to increase annually by 2.2% between 2018 and 2021.
The Manchester Evening News has also reported major developments in 2018 that will create homes, jobs, and environmentally-friendly landmarks and buildings. For example, a new 'Tower of Light' is set to use hot water from underground pipes as renewable energy to heat nearby buildings like the Central Library and Manchester Art Gallery. Other developments worth millions include the creation of skyscrapers and building blocks that will provide apartments, offices, and public space.
Manchester's Metrolink tram system has made getting around the city and beyond faster and easier, and, to keep up with the expansion of the city, the mayor of Greater Manchester announced at the start of 2019 that the government had backed the expansion of the system. There is also the £56 billion High-Speed Two railway that is planned for the UK in 2026, which will cut down the journey time from Manchester to London by an hour, increase train capacity, and connect Manchester to other cities.
In light of so much expansion, now is a key time to invest in a move to Manchester. A few of the top places to live in Manchester, as listed by The Sunday Times, include Castlefield, Chorlton, and Altrincham. Luckily, housing affordability in Manchester was ranked 6th in the 2018 Royal Mail study and, according to a Money Supermarket Index, Manchester is also one of the most family-friendly cities in the UK!
Glasgow
The people of Glasgow have been known to be the best thing about this city. Their history of a warm and welcoming community resulted in Rough Guide readers voting Glasgow as the 'World's Friendliest City'. Glasgow has honoured this title proudly in events and campaigns, and on signposts across the city.
In December 2018 Glasgow was forecasted to lead economic growth in Scotland with an average GVA (gross value added) of 2.0% per year through to 2021. The private sector in particular is expected to be a key driver of this growth, with Glasgow's financial services sector being the largest and a major generator of employment opportunities. It has been suggested that this growth is threatened by Brexit, which might put Glasgow at an economic disadvantage. It has been reported, however, that Glasgow's council leaders are currently working on building the city's business brand and promoting the city to international markets, as well as encouraging internationals to come to live and work in Glasgow.
As the largest city in Scotland, Glasgow is home to a host of culture and entertainment, with renowned Scottish attractions like The Scottish Opera, The Scottish Ballet Company, The National Theatre and Scotland's largest exhibition centre, which is due to undergo further expansion. Glasgow's West End on Byres Road is a very cosmopolitan, multi-cultural and trendy area with lots of things to do for families, students and professionals. It is easy to get around Glasgow on the subway, otherwise known as 'The Clockwork Orange', which is the third oldest metro system after the London Underground and the Budapest Metro. It is also undergoing a £288 million revamp to be completed in 2020, which is set to modernise the design of the trains, improve their reliability and increase available space.
You will not be lacking pretty parks with natural scenery in which to unwind in Glasgow, as it was in first place for its green spaces in the 2018 Royal Mail Study. The Global Destination Sustainability Index ranked Glasgow among the top five cities in the world for promoting sustainable growth and the city aims to become one of Europe's most sustainable cities by 2020. Some of the best places to live in Glasgow for quality of life, education, and housing include Hillhead, Shawlands and Bearsden.
Best Cities in the UK: Our Pick of the Rest
Other cities listed as the best in the UK include Leeds, Cardiff, Sheffield, Liverpool, Belfast and Birmingham.
Leeds
Leeds is lucky to have Yorkshire as its county, which is the largest and oldest county in the UK with a 13th-century cathedral, Norman castles, medieval abbeys and national parks. So, you have the heart of the English countryside and the city centre of Leeds a 10-minute drive or 20-minute walk from each other. In the 2018 Royal Mail study, Leeds was in a leading spot for employment, as it ranked 3rd for job opportunities and earnings, beating Manchester and being only one place behind London.
Cardiff
The Welsh Capital of Cardiff is a smaller and more compact city and, therefore, enjoys a stronger sense of community. The feeling of home is cherished by the Welsh; they even created the word 'Cwtch', meaning a hug and evoking a sense of home. You are likely to get a stronger feeling of comfort and community in Cardiff than in a bigger city like London, but you still have the liveliness you would find in most cities and, even better, there are beautiful beaches to enjoy on Cardiff's coast, which are only 30-45 minutes away.
Sheffield
The 'Steel City', Sheffield, has gained a worldwide reputation for its stainless-steel production, but it is also known for other things that might make you want to move there. It is known as one of the greenest cities in the UK with 80 parks, tonnes of green spaces, and two million trees, so you'll have plenty of space to relax in and explore. Coldness and rain are guaranteed in the UK, but Sheffield is a city that doesn't get as much rain because of the Pennine Mountains, which splits Sheffield from Manchester and stops some downpours coming from the Atlantic. Sheffield ranks highly for housing affordability, as it came 4th in the 2018 Royal Mail study. Data analysed by Money Nest in 2019 also shows that Sheffield has one of the lowest living costs for individuals and couples.
Liverpool
Liverpool, however, topped the list for housing affordability. Home town of The Beatles, The Royal Albert Dock, and an iconic waterfront hosting culture and entertainment, Liverpool is the fifth largest metropolitan area in the UK. It has also been ranked amongst the friendliest cities in the UK, so you'll be sure to feel welcomed!
Belfast
Belfast is another city amongst the best in the UK. It is more compact than the rest but is nonetheless filled with culture, diversity, and history. Queen's University Belfast, as part of the Russell Group, attracts internationals from over 82 countries and so the streets and corners of Belfast are always welcoming people from an array of different cultures. The city is the birthplace of the Titanic, it is home to the Cathedral Quarter (which is a centre for entertainment and art), and it is a city that has overcome major conflict from 'The Troubles.'
It was identified recently that digitalisation is transforming Belfast into a leading economy, with the digital technology sector's GVA contribution being the second highest in the UK, and the sector continuing to create well-paid jobs. Belfast came 2nd in the 2018 Royal Mail study for housing affordability and it has also been listed by Money Nest as the second cheapest city to live in 2019.
The city is surrounded by countryside, coasts, beaches and mountains. Places worth a visit include the North Coast, Helen's Bay, Cavehill, the Giant's Causeway, the Mourne Mountains, Newcastle Promenade, and not forgetting The Dark Hedges from the Game of Thrones, which are all easily accessible and under an hour away from Belfast via car/train/bus.
Birmingham
Last but not least is Birmingham, which was listed as the second-fastest growing city in 2018. There is set to be a route from Birmingham to London on the HS2 (high-speed railway) in 2026 which will shorten the journey to just under 50 minutes. Berkeley Homes recently announced plans to build 3,000 homes a year in Birmingham over the next decade, having forecasted a 'world class' future for the city. The developer is already making progress on housing in the Snowhill area, which is right beside one of the city centre's main railway stations.
Relocating to a new city can be a rollercoaster of emotions. It is no doubt an exciting time, but it can also be stressful when it comes to getting through your moving abroad checklist. You will probably need to sort things like a visa, accommodation, healthcare and finances. Check out our guide on moving to the UK, where you will be steered in the right direction. Our door-to-door luggage shipping service will remove the hassle of finding a removals company and paying excessive fees for their service.
Our Most Popular Articles