How to Get into the Festive Spirit This Christmas
Monday, 9 Nov 2020
We get it, it's been a tough year and Christmas 2020 is going to be different for most of us; markets may be cancelled, pantomimes will be few and far between and there will be a seat or two less at the table on the big day for the all-important Christmas dinner.
With everything so upside down, it's no surprise if you're struggling to get into the festive spirit. Apart from wishing the past 9 months never happened, Send My Bag have a number of ideas to get into the festive spirit this Christmas.
1. Decorate Early
All rules are out the window this year so why not get your decorations up early to brighten your home and cheer up the family? We're in for some long winter nights so making your home as cosy and festive as possible is our number one recommendation.
2. Have a film night
Fire up Netflix and stick on a festive film to spark a glow in your heart and transport you away from reality. We've got a few office favourites from Elf to Miracle on 34th Street. On your own or self-isolating? Watch along with a few friends using apps such as Netflix Party.
3.Enjoy Being Cosy
One of our favourite parts of the winter season is hunkering down for the long cold nights with a big duvet, hot water bottle and most importantly; Christmas pyjamas. Get some hot chocolate and you're all set for whatever the night may bring.
4. Have a Sip and Bite
One of the quicker ways to get into the festive spirit is to indulge yourself with some traditional Christmas food and drink. Light the fire, throw the mince pies in the oven and crack open the sherry.
5. Bake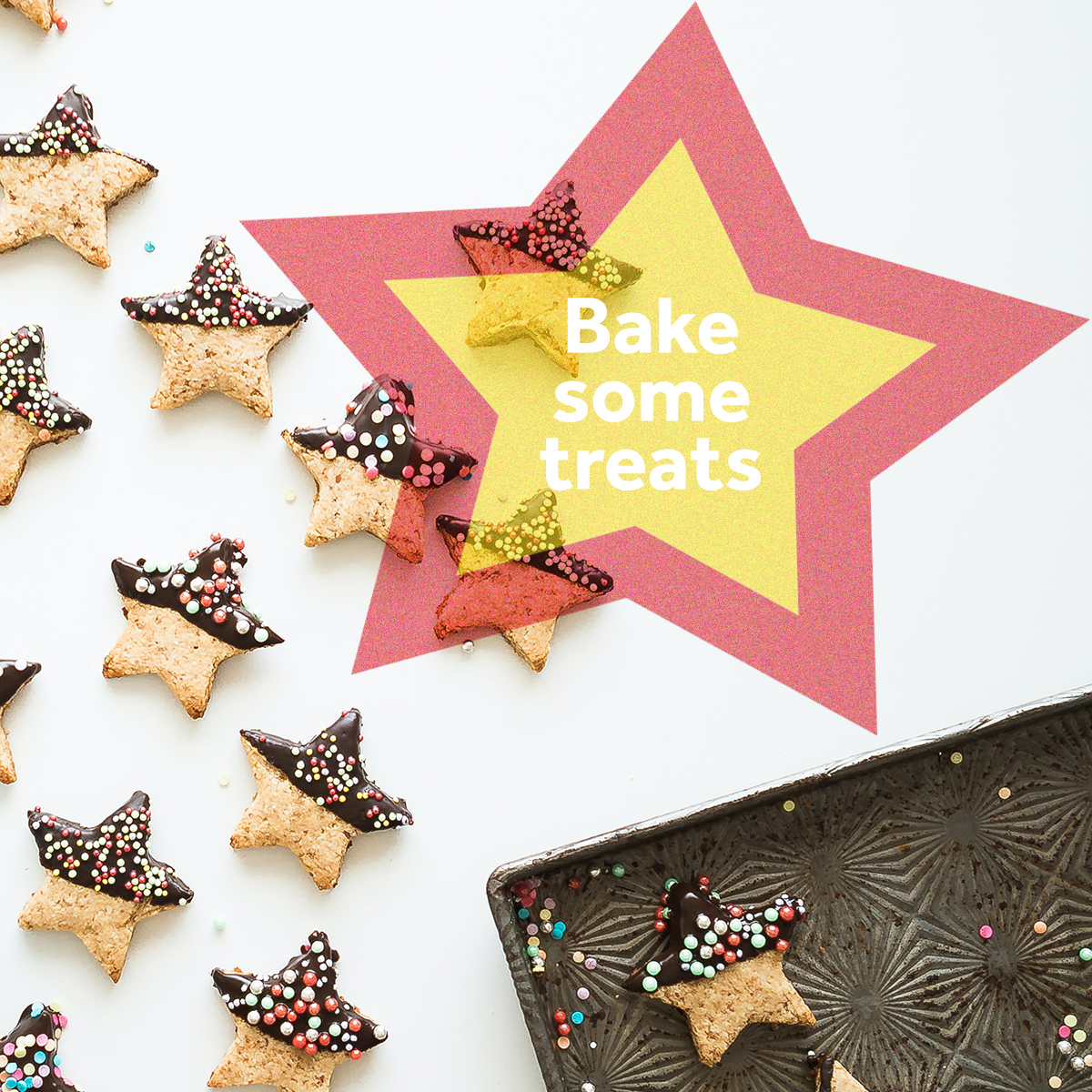 When lockdown began in March, it seemed like most of the world were baking. At least, anytime we checked Instagram there was someone new sharing their banana bread effort. With Christmas being a time to indulge, it's the perfect time to get your hands messy again with some festive recipes.
6. Get your gifts in order
Start drawing up a list of who you have to buy for and focus on one person's present per day. Whether you do this online or on the high street is up to you, but one advantage of going into the shops is seeing all those joyous Christmas displays.
Buying gifts for loved ones abroad? You can use our international shipping service to make sure the parcel is in their hands before the main event.
7. Christmas Music
In years gone by, we haven't been too fond of Christmas music in the office and to be perfectly honest we've been a bit guilty of bah-humbugging. We suspect offices up and down the country are the same. One thing about Christmas music however is that it gets you into the festive spirit, so why not play some at your work from home set up?
If you're feeling a little fed up and demotivated about working from home during the winter months, you can have a refresher of our working from home tips.
8. Be Thankful
We all know this Christmas will be different, but we can at least be thankful that we've made it to the end of 2020. We may not be able to hug, sing or enjoy the day in person with all the usual suspects but at least we're safe.
Christmas is about togetherness, whether that be in person or over Zoom. This year we should appreciate family and what we do have.
How do you plan on spending Christmas 2020? Have you got any ideas on how to get into the festive spirit this year? Let us know on our Facebook or Twitter pages.