Top Tips For Self-Isolating Students
Wednesday, 25 Mar 2020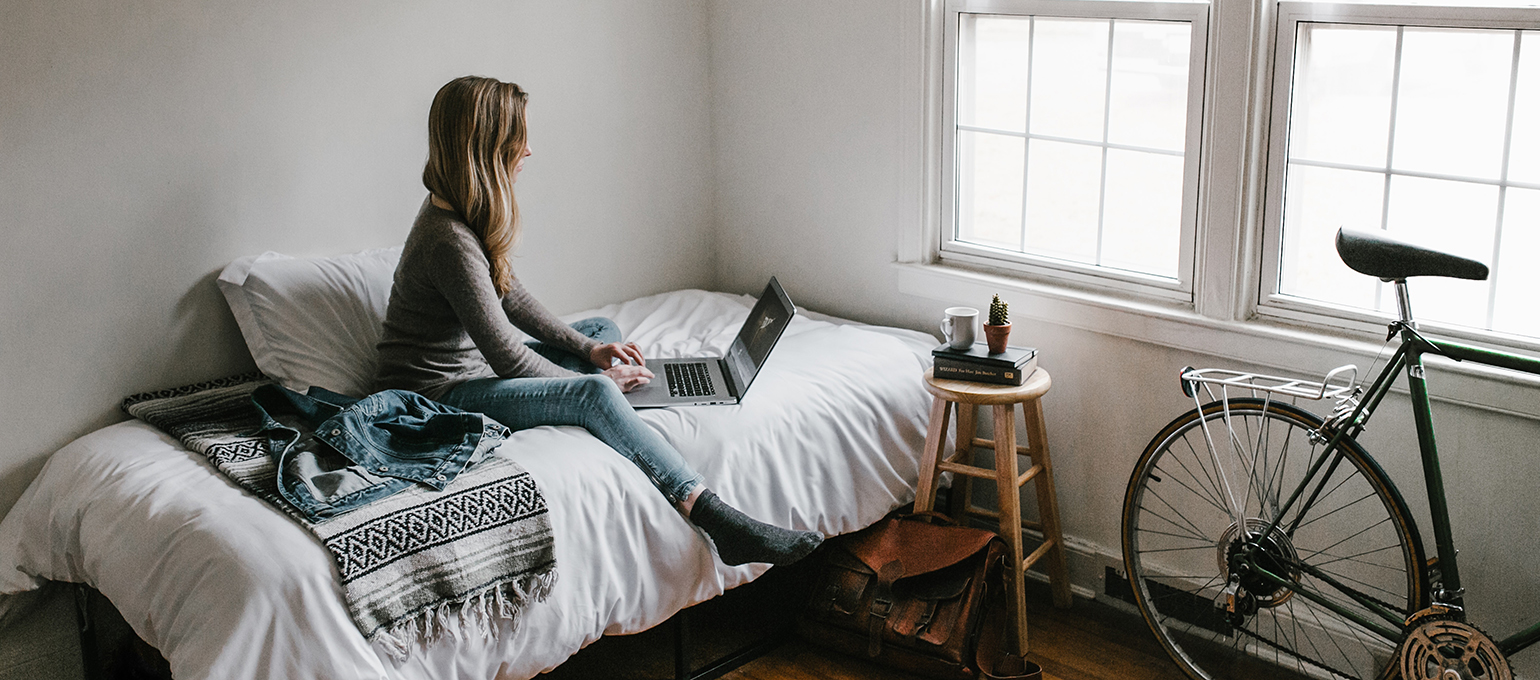 The Coronavirus (COVID-19) pandemic has had a huge impact on our lives. Self-isolation and social distancing measures have been introduced around the world. The general advice is not to leave home unless absolutely necessary. Busy offices have been deserted, universities have closed and there's been a huge shift towards working and studying from home.
Universities and schools in the UK, Ireland, USA, Australia and around the world have closed and students worldwide are now studying from at home. Course and teaching material have been made available online for students to continue their education whilst adhering to measures put in place by governments worldwide to prevent the spread of coronavirus.
Just like working from home, studying at home can be a shock to the system for most. Try these handy tips for self-isolating students to make the upcoming months more bearable.
Get into a daily routine.
When you're at home every day, it's very easy to fall into the trap of going to bed late and waking up later than usual. It's important to create a daily routine and stick to it as much as possible.
Try going to bed at the same time every night and setting an alarm for the same time each morning.
Waking up and going to sleep at the same time every day will help you establish a schedule. Plan out what you are going to do each day, split study topics/sections into manageable chunks that allow you to focus on one thing at a time.
Create a workspace that you feel comfortable in.
It's important to have a comfortable space to study in so that you can remain focused. Using your laptop on your bed will become uncomfortable if doing so for long periods and will likely cause issues with relaxing when you do want to rest. Try to sleep and work in different places so there's a clear divide between study and your 'down time'.
If you live in a shared flat or house, try and create space in a quiet and isolated room so that you're not distracted.
Stay active.
It's important to stay active and give your mind a break from study. If you're used to going to the gym, you may struggle with not being able to get out of the house to blow off steam, however, there's plenty of other options to keep you fit and healthy during self-isolation.
Try exercising from home or going out for a run or walk once a day, although keep at least 2 metres from others. This will help clear your head and allow you to focus more on your studies when you return to your desk or study space.
Music & Meditation
Who doesn't like listening to music when studying? Use music streaming services such as Spotify or Apple Music to discover new playlists to study to. We thoroughly recommend the "Music for Concentration" playlist on Spotify.
If you're feeling stressed or under pressure, try using meditation apps such as Calm or Headspace to help you meditate and reduce stress levels.
Group sessions
Studying at home can become lonely and you will likely miss the human interaction you normally experience at university or college.
If you prefer studying with others, organise Skype or Facetime calls with your friends. This way you can discuss complex ideas and problem solve together. It'll also be good to see friendly faces.
Take a break
It's important to take a break away from your studies to unwind. Just because you're at home, it doesn't necessarily mean that you'll be more relaxed, you may in fact find yourself getting more stressed than usual.
Schedule regular breaks to have a cup of coffee, a snack, or watch your favourite show on Netflix. You take study breaks when you're at the library so don't feel guilty about doing this.
Embrace technology
Use technology to make studying from home easier. There are plenty of useful apps and tools available that can help with your studies.
Evernote is great for to do lists and note-taking, Dropbox allows you to create backups of your files online. There are plenty of others that will make your workflow easier and make you more productive when studying from home.
Our Most Popular Articles
Singapore Airlines Reduces Fleet to 9 Planes
Singapore Airlines will reduce its fleet to just 9 planes by the end of the month. The airline announced that it will cut the majority of its operations by the end of March in the midst of the current coronavirus pandemic.
British Travellers Urged To Return To The UK
The FCO (Foreign and Commonwealth Office) updated its exceptional travel advisory notice to advise all British tourists and short-stay travellers who are currently abroad to return to the UK where flight options are still available.